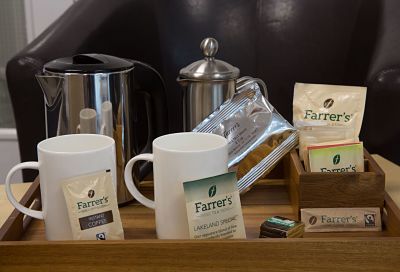 Farrer's are dedicated to excellence in beverage supplies, our helpful team will guide you to select the right products for your customers, ensuring you get the best from our comprehensive range.
Our coffees are sourced ethically from around the globe and roasted to perfection here in Kendal.
We supply a large array of coffees tailored for many different methods of brewing,
We help select the perfect coffee to suit your needs.
We can even tailor a coffee to provide the exact taste notes you desire. The choice is virtually limitless.
The tea we import is from some of the most consistent quality driven plantations in existence.
We import and blends many different teas, Fruit tisanes and herbal oil infused drinks.
Whether it is Black, Green, Oolong or white tea or all of the above.
We aim to provide you with the best quality, freshest tea available, ensuring your beverages are unrivalled.
Hot Chocolate is a beverage that Farrer's believe should leave you wanting more.
From the first drop to the last drop, the luxury Hot Chocolate we supply are luxurious and velvety smooth texture, giving rich aroma and tastes which linger in the mouth.
We also provide all the things you need to deliver the perfect drink such as sugar and gourmet syrups...
You'll find it here at Farrer's, supplied with our unrivalled service